The Developper Mode
1. What is the Developper Mode
The developper mode is using by players to see all items, skills and NPC in the Game client. It is also possible to explore the world. For exemple, you could see
here
that XVII found the Catacombs sealed using the Korean PTS Client.
Everything you do within the developper mode is do in a "local" way. It won't affect what you are doing on retail servers, and won't change anything on your client
With it, you are able to view monsters skins, monsters animation, skills animation, item stats and so on.
You could use the developper mode without modifing any file in your client. You can choose freely to launch either the normal game or the dev mode.
2. Installing the developper mode
Before doing anything stated below, be sure to have the lastest client version. Run a full repair from the NCSoft website to be sure of this fact
In order to launch the developper mode, you just have to launch Lineage 2 with an other L2.ini file. Instead of overwriting the regular L2.ini file, we will ask the Lineage II program to launch it with an other file, using a
command line parameter
. The modified file will contain instructions for the game to launch the developper mode instead of the regular game.
2.1. Show file extension
There are two ways to add parameters in the command line. With a .bat file, or via a shortcut. I will here explain how to do it with a bat file.
First, go to Window option to show file name extensions.
Windows 7 :
http://windows.microsoft.com/en-ZA/wind ... extensions
Windows Vista :
http://windows.microsoft.com/en-ZA/wind ... extensions
Windows Xp : Kinda the same way. If you have trouble finding it, just ask around
After making this change, you should see the file type. The following screenshot is an example of files in the Lineage II system folder. You can see there I got several DAT files, like the file
ActionName-e.dat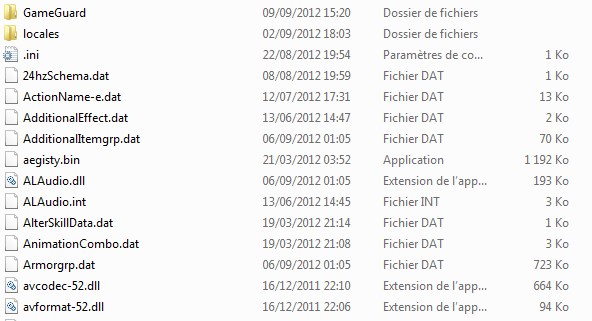 2.2. Creating the BAT file
In order to launch the game with additional parameters, we will create a bat file who will launch the game. A bat file is simply an executable file which will execute Batch language (the language used by Windows as command line).
1) Go to your system folder
2) Right click where there is nothing, and choose New, Text file

3) You will notice that Windows is hi-lighting the name of the file. Erase everything and call the file
developper.bat
. Windows will ask you if you are sure to modify the file extension, choose yes
4) Right click on the new file, developper.bat, and choose "Modify" just under "Open". It will open the file with Windows notepad.
5) Inside the file, add the following text :
Code: Select all

@echo on
start l2.bin -INI=developper.ini

@echo on
means you will print what you are doing. The
start
instruction will just tell windows to execute l2.bin as an exefile, and with
-INI=
you say to L2.bin which file it should use instead of the regular L2.bin
2.3. Creating the INI file
Now that you created the bat file saying to L2.bin to use the custom file
developper.ini
, we should create this file as well.
1) Create a new file like before, and name it
developper.ini
2) Right click on it, click on "Modify" to open it with the Windows notepad.
3) Copy paste the following code inside :
Code: Select all

[URL]
Protocol=unreal
ProtocolDescription=Unreal Protocol
Name=Player
Map=Index.unr
LocalMap=20_20.unr
Portal=
MapExt=unr
EXEName=l2.exe
SaveExt=usa
Port=7777
Class=LineageWarrior.MFighter
ServerAddr=127.0.0.1
IsL2NetLogin=False
IsL2Console=False
IsL2Seamless=True
IsL2Projector=True
ISL2Mark=2
ForceAspectRatio=False
AspectRatio=1.334
IsDefaultShaodw=False
IsUnderWaterEffect=False
IsUseCommand=True
L2VersionCheck=false
IsL2MemLog=True
L2ThreadFilter=1
L2TestServer=True
EnablePurgeLevel=True
SharedSky=True
L2MaxPawnResourceLoad=1.0
L2UseKeyCrypt=True
L2UseReplayManager=true
MSNHideWarnMsg=True
EnableSecondWindow=true
EnablePremiumMultiWindow=False
IsUseXMLUI=True
L2ShaderPath=.\
GamePointURL=https://secure.ncsoft.com/cgi-bin/coinStore.pl
UseNewPetition=false
L2HomeURL=https://login.lineage2.com/login/loginform
;L224HzHomeURL=http://www.24hz.com/#/main/intro/player
bUse24Hz=false
UseAuthUserData=true
;L2InGameBoardURL=about:blank
L2InGameBrowserPathMapURL=http://truly-free.lineage2.com/path
ReplayFileVersion=7
UseNG=true
NOGG_Auth=true
NetSendHardWare=false
NewScreenShot=true

[Auth]
ExternalLogin=false
CmdLineLogin=false
UseSecondaryAuth=true
UseEMailAccount=true
ServerAddrChangeCommandLine=true
;BusyUserCnt=2500
;NormalUserCnt=2000
PercentUserCnt=true
UseUnderWear=True
UseActorEffectSort=true
FreeUserClient=3

[L2WaterEffect]
ColorReference=(A=180,R=38,G=56,B=64,RR=150)
EffectResolution=512

[LanguageSet]
Language=0

[FontSet]
;Font=L2Font.Japan
;Glyph=Japan.gly
Font=L2Font.gulim
Glyph=gulim.gly

[CharacterDisplay]
Name=true
Dist=10000

[ClippingRange]
PawnMax=10.0
PawnMin=1.5
AntiPortal=1.5
Terrain=8.0
StaticMesh=4.0
Projector=0.2
StaticMeshLod=5.0
Pawn=2.0
Actor=4.0

[AutoLogOn]
IsL2AutoLogOn=Ture
L2ID=zodiac
L2Passwd=zodiac
L2Slot=7

[FirstRun]
FirstRun=2110

[Engine.Engine]
RenderDevice=D3DDrv.D3DRenderDevice
;RenderDevice=Engine.NullRenderDevice
;RenderDevice=OpenGLDrv.OpenGLRenderDevice
AudioDevice=ALAudio.ALAudioSubsystem
;AudioDevice=XboxAudio.XboxAudioSubsystem
NetworkDevice=IpDrv.TcpNetDriver
DemoRecordingDevice=Engine.DemoRecDriver
Console=Engine.Console
DefaultPlayerMenu=UDebugMenu.UDebugRootWindow
Language=int
GameEngine=Engine.GameEngine
EditorEngine=Editor.EditorEngine
GUIController=Engine.BaseGUIController
;DefaultGame=WarfareGame.WarfareTeamGame
;DefaultServerGame=WarfareGame.WarfareTeamGame
DefaultGame=Engine.GameInfo
DefaultServerGame=Engine.GameInfo
ViewportManager=WinDrv.WindowsClient
;ViewportManager=XboxDrv.XboxClient
;ViewportManager=SDLDrv.SDLClient
Render=Render.Render
Input=Engine.Input
Canvas=Engine.Canvas
DefaultPlayerController=Engine.LineagePlayerController
L2NetHandler=Engine.NetHandler
L2Console=NWindow.ConsoleWnd
L2Font=NWindow.L2Font

[Core.System]
PurgeCacheDays=30
SavePath=../Save
CachePath=../Cache
CacheExt=.uxx
Paths=./*.u
Paths=../StaticMeshes/*.usx
Paths=../Textures/*.utx
Paths=../Sounds/*.uax
Paths=../Voice/*.uax
Paths=../Maps/*.unr
;Paths=../Music/*.umx
Paths=../Animations/*.ukx
Paths=../Animations/*.uix
Paths=../SysTextures/*.utx
Paths=../Animations/*.usk
Paths=../Saves/*.uvx
Suppress=DevLoad
Suppress=DevSave
Suppress=DevNetTraffic
Suppress=DevGarbage
Suppress=DevKill
Suppress=DevReplace
Suppress=DevCompile
Suppress=DevBind
Suppress=DevBsp

[Engine.GameEngine]
CacheSizeMegs=128
UseSound=True
;ServerActors=IpDrv.UdpBeacon
;ServerActors=IpServer.UdpServerQuery
;ServerActors=IpServer.UdpServerUplink MasterServerAddress=unreal.epicgames.com MasterServerPort=27900
;ServerActors=UWeb.WebServer
ServerPackages=AmbientCreatures
;ServerPackages=WarEffects
;ServerPackages=Decorations
ServerPackages=GamePlay
ServerPackages=UnrealGame
;ServerPackages=WarfareGame
;ServerPackages=WarClassLight
;ServerPackages=WarClassHeavy
;ServerPackages=WarClassMisc
;ServerPackages=Pickups

[WinDrv.WindowsClient]
WindowedViewportX=1666
WindowedViewportY=960
FullscreenViewportX=1024
FullscreenViewportY=768
MenuViewportX=640
MenuViewportY=480
Brightness=0.800000
Contrast=0.700000
Gamma=1.000000
UseJoystick=True
CaptureMouse=False
StartupFullscreen=true
UseWindowFrame=true
ScreenFlashes=True
NoLighting=False
MinDesiredFrameRate=35.000000
Decals=True
Coronas=True
DecoLayers=True
Projectors=True
NoDynamicLights=False
ReportDynamicUploads=False
TextureDetailInterface=Higher
TextureDetailTerrain=Higher
TextureDetailWeaponSkin=Higher
TextureDetailPlayerSkin=Higher
TextureDetailWorld=Higher
TextureDetailRenderMap=Higher
TextureDetailLightmap=Higher
NoFractalAnim=False
ScaleHUDX=0.0

[SDLDrv.SDLClient]
WindowedViewportX=1024
WindowedViewportY=768
FullscreenViewportX=1024
FullscreenViewportY=768
MenuViewportX=640
MenuViewportY=480
Brightness=0.800000
Contrast=0.700000
Gamma=0.800000
UseJoystick=True
JoystickNumber=0
IgnoreHat=False
JoystickHatNumber=0
CaptureMouse=True
StartupFullscreen=true
ScreenFlashes=True
NoLighting=False
MinDesiredFrameRate=35.000000
Decals=True
Coronas=True
DecoLayers=True
Projectors=True
NoDynamicLights=False
ReportDynamicUploads=False
TextureDetailInterface=Normal
TextureDetailTerrain=Normal
TextureDetailWeaponSkin=Normal
TextureDetailPlayerSkin=Normal
TextureDetailWorld=Normal
TextureDetailRenderMap=Normal
TextureDetailLightmap=UltraHigh
NoFractalAnim=False

[Engine.Player]
ConfiguredInternetSpeed=10000
ConfiguredLanSpeed=20000

[ALAudio.ALAudioSubsystem]
UseEAX=False
Use3DSound=False
UseDefaultDriver=True
CompatibilityMode=False
UsePrecache=True
ReverseStereo=false
Channels=32
MusicVolume=0.1
AmbientVolume=1.0
SoundVolume=1.0
DopplerFactor=1.0
;Rolloff=0.5
TimeBetweenHWUpdates=15
DisablePitch=False
LowQualitySound=False

[IpDrv.TcpNetDriver]
AllowDownloads=True
ConnectionTimeout=15.0
InitialConnectTimeout=500.0
AckTimeout=1.0
KeepAliveTime=0.2
MaxClientRate=20000
SimLatency=0
RelevantTimeout=5.0
SpawnPrioritySeconds=1.0
ServerTravelPause=4.0
NetServerMaxTickRate=20
LanServerMaxTickRate=35
DownloadManagers=IpDrv.HTTPDownload
DownloadManagers=Engine.ChannelDownload

[IpDrv.HTTPDownload]
RedirectToURL=
ProxyServerHost=
ProxyServerPort=3128
UseCompression=True

[Engine.DemoRecDriver]
DemoSpectatorClass=Warriors.CHSpectator
MaxClientRate=25000
ConnectionTimeout=15.0
InitialConnectTimeout=500.0
AckTimeout=1.0
KeepAliveTime=1.0
SimLatency=0
RelevantTimeout=5.0
SpawnPrioritySeconds=1.0
ServerTravelPause=4.0
NetServerMaxTickRate=60
LanServerMaxTickRate=60

[Engine.GameReplicationInfo]
ServerName=Another Unreal Server
ShortName=Unreal Server

[IpDrv.TcpipConnection]
SimPacketLoss=0
SimLatency=0

[IpServer.UdpServerQuery]
GameName=ut

[IpDrv.UdpBeacon]
DoBeacon=True
BeaconTime=0.50
BeaconTimeout=5.0
BeaconProduct=ut

[XboxDrv.XboxClient]
TextureDetail=Medium
SkinDetail=Medium
LightmapDetail=High
TextureMinLOD=6
TextureMaxLOD=9
Brightness=0.8
Contrast=0.7
Gamma=0.8
NoFractalAnim=True

[XBoxAudio.XBoxAudioSubsystem]
ReverseStereo=False
Channels=32
MusicVolume=1.0
SoundVolume=1.0
AmbientFactor=1.0
UsePrecache=True

[D3DDrv.D3DRenderDevice]
DetailTextures=True
HighDetailActors=True
SuperHighDetailActors=True
UsePrecaching=True
UseTrilinear=True
AdapterNumber=-1
ReduceMouseLag=True
UseTripleBuffering=False
UseHardwareTL=True
UseHardwareVS=True
UseCubemaps=True
DesiredRefreshRate=60
UseCompressedLightmaps=True
UseStencil=True
Use16bit=False
Use16bitTextures=False
MaxPixelShaderVersion=255
UseVSync=False
LevelOfAnisotropy=1
DetailTexMipBias=0.8
DefaultTexMipBias=-0.5
UseNPatches=False
TesselationFactor=1.0
CheckForOverflow=False

[OpenGLDrv.OpenGLRenderDevice]
DetailTextures=True
HighDetailActors=True
SuperHighDetailActors=True
UsePrecaching=True
UseCompressedLightmaps=True
UseTrilinear=True
UseStencil=False
MaxTextureUnits=8
VARSize=32
ReduceMouseLag=False

[Engine.NullRenderDevice]
DetailTextures=True
HighDetailActors=True
SuperHighDetailActors=True
UsePrecaching=True
UseCompressedLightmaps=True
UseStencil=False

[Editor.EditorEngine]
UseSound=True
CacheSizeMegs=32
GridEnabled=True
SnapVertices=False
SnapDistance=10.000000
GridSize=(X=16.000000,Y=16.000000,Z=16.000000)
RotGridEnabled=True
RotGridSize=(Pitch=1024,Yaw=1024,Roll=1024)
GameCommandLine=-log
FovAngleDegrees=90.000000
GodMode=True
AutoSave=True
AutoSaveTimeMinutes=5
AutoSaveIndex=6
UseAxisIndicator=True
MatineeCurveDetail=0.1
LoadEntirePackageWhenSaving=0
EditPackages=Core
EditPackages=Engine
EditPackages=Fire
EditPackages=Editor
EditPackages=UWindow
EditPackages=UnrealEd
EditPackages=IpDrv
EditPackages=GamePlay
EditPackages=CameraEffectInfo
EditPackages=LineageEffect
EditPackages=LineageEffect_br
EditPackages=LineageWarrior
EditPackages=LineageNpc
EditPackages=LineageNpc2
EditPackages=LineageNpc3
EditPackages=LineageNpc4
EditPackages=LineageNpcEv
EditPackages=LineageNpc_br
EditPackages=LineageMonster
EditPackages=LineageMonster2
EditPackages=LineageMonster3
EditPackages=LineageMonster4
EditPackages=LineageMonster5
EditPackages=LineageMonster6
EditPackages=LineageMonster7
EditPackages=LineageMonster8
EditPackages=LineageMonster9
EditPackages=LineageMonster10
EditPackages=LineageMonster11
EditPackages=LineageMonster12
EditPackages=LineageMonster99
EditPackages=LineageVehicle
EditPackages=LineageDeco
EditPackages=UDebugMenu
EditPackages=LineageSceneInfo
EditPackages=LineageSkillEffect
EditPackages=NWindow
;EditPackages=LineageCreature
;EditPackages=WarEffects
;EditPackages=Decorations
;EditPackages=WarfareGame
;EditPackages=IHVDemoContent
;EditPackages=Pickups
;EditPackages=WarClassLight
;EditPackages=WarClassHeavy
;EditPackages=WarClassMisc
;EditPackages=AmbientCreatures
;EditPackages=Vehicles
;EditPackages=UPreview

[UMenu.UnrealConsole]
RootWindow=UMenu.UMenuRootWindow
UWindowKey=IK_Esc
ShowDesktop=True

[UMenu.UMenuMenuBar]
ShowHelp=True
GameUMenuDefault=UTMenu.UTGameMenu
MultiplayerUMenuDefault=UTMenu.UTMultiplayerMenu
OptionsUMenuDefault=UTMenu.UTOptionsMenu

[Engine.GameInfo]
bLowGore=False
bVeryLowGore=False

[UWeb.WebServer]
;Applications[0]=UTServerAdmin.UTServerAdmin
;ApplicationPaths[0]=/ServerAdmin
;Applications[1]=UTServerAdmin.UTImageServer
;ApplicationPaths[1]=/images
DefaultApplication=0
bEnabled=False

[Engine.LevelInfo]
PhysicsDetailLevel=PDL_High

[Engine.Console]
ConsoleKey=9

[WindowPositions]
GameLog=(X=0,Y=0,XL=512,YL=256)

[Frost]
FrostModule=false

[PrimeShop]
UsePrimeShop=true
UseGoodsInventory=false
NewPrimeShop=true

[L2PawnViewer]
ST_HEAD=0
ST_RHAND=0
ST_LHAND=0
ST_GLOVES=0
ST_CHEST=0
ST_LEGS=0
ST_FEET=0
ST_BACK=13074
ST_RLHAND=14463

[UDebugMenu.UDebugMapListCW]
LastGameType=Engine.GameInfo

[Localize]
UseLectureMark=false
UseJapanMinigame1=false
UseTeleportFlag=true
UsePCBangPoint=false
UseQuestRewardPenaltyPer=true
UsePathtoAwakening=true
F2PQuestRewardPenaltyPer=1
F2PQuestRewardPenaltyQuests=10320,10321,10322,10323,10324,10325,10326,10327,10328,10329,10330,10331,10332,10333,10334,10335,10336,10337,10358,10359,10360,10361,10362,10363,10364,10365,10366,10368



I won't really explain how it does work. Suffice to say it works since Goddess of Destruction Update, and it will open the developper mode
2.4. Launching the developper mode
You should know have two new files,
developper.bat
and
developper.ini
in your game system folder.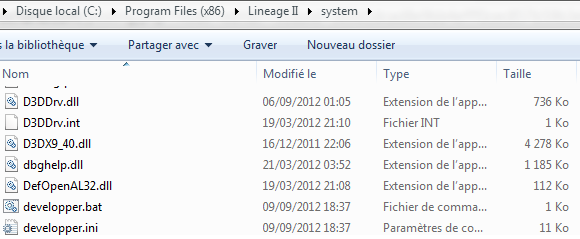 Just double click on the file
developper.bat
to launch the developper mode. To launch the regular game, do as usual. Nothing changed
Using the Developper Mode
Now you launched the developper mode, you should get a window with a male human warrior in a fortress, and nothing more.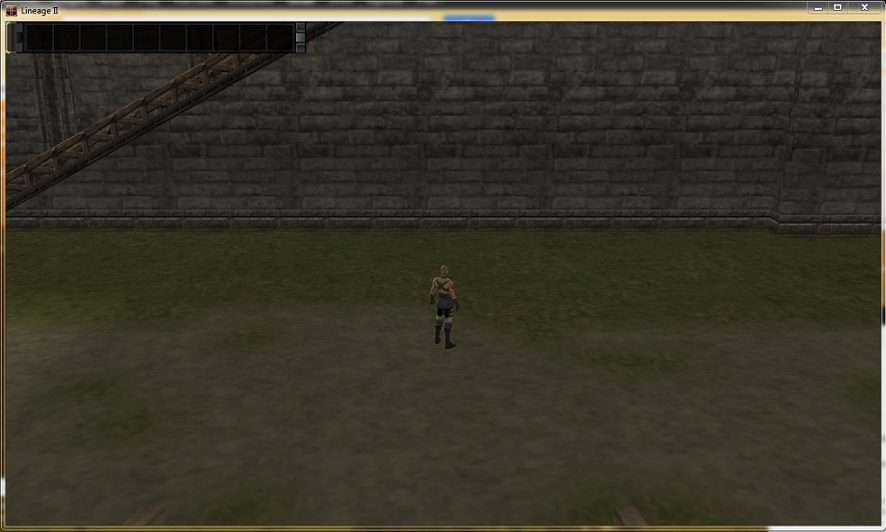 There are basically two menus you can use. The first one is opened by using the Insert key, the second one by using the tab key.
3.1. NPC, Skill and Pawn viewer
When you hit the Tab key, a bar will be open at the bottom of the screen. You could write anything inside, but three words are enough :
NV : Npc Viewer
PV : Item Viewer
SV : Skill Viewer

When writing the two letters of your choice, some windows will appears. You could also open the 3 mode in a row but your window will be quickly filled
3.1.1. The NPC viewer
In the NPC Viewer, you have a small list with all npc in the game. The image will explain it better
3.1.2. The Skill viewer
The Skill Viewer will open only one window with differents tabs. All skills which exist in the Lineage 2 client are listed there. They are divised in several categories as you can see on the picture below.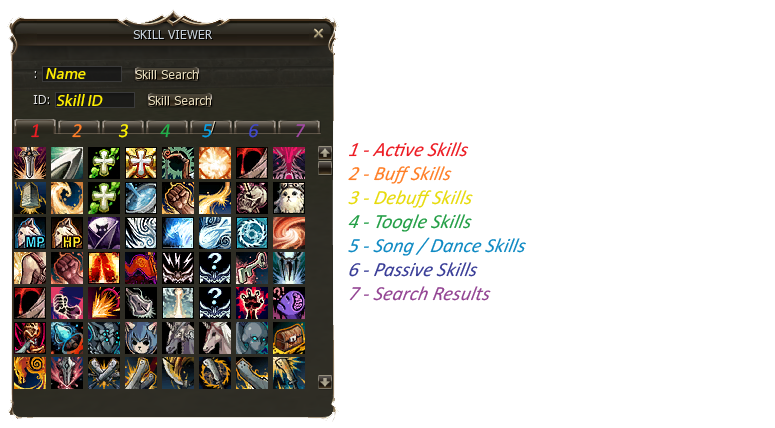 In the first champ, you could search a skill by his name. Be aware that it's case sensitive ! You will find nothing if you are looking for the skill
resurrection
, but if you use the word
Resurrection
with a major R you will find what you are looking for.
When you double click on a skill icon, you will see the cast animation. If you are alone, you will be both the caster, and the target of the skill. If you target a clone of yourself (see for this the Pawn viewer section), the clone will be the target.
If you don't see any animation when you are using a skill it may be for the following reasons :
1 - You need to have a special appearance to use the skin. For example if you want to use the skill

Valakas Dragon Breath

, you should have the Valakas skin to use it. See the NPC Viewer section about how to get this appearance.
2 - The skill itself has no animation.
You can for example see how I use the skill Valakas Dragon Breath while being in the Valakas form :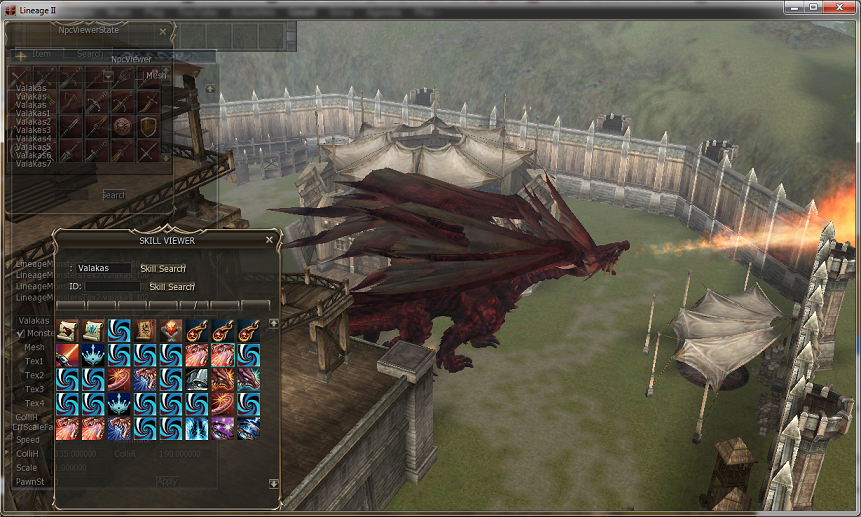 3.1.3. The Pawn viewer
In the Item Viewer, you could see all items, and all armors. If you are looking for a wearable item, you could also equip it on your test character.
First, you need to know you could change the aspect of your character with the small window which should be on the left when it pop
3.1. The upper menu