Quim wrote:One thing I couldn't understand from the article, is it possible to create a group with people you already know or it's random matching?
In the waiting areas chatting is permitted, so you could try to make "waves", but basically the party matching is random.
There are several confirmation buttons to click when, after the party matching is complete (매칭 완료), you are going to the Waiting Room or choosing your class: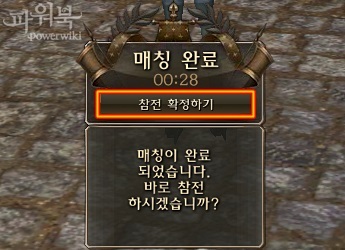 http://lineage2.power.plaync.com/wiki/% ... 8#hd106498
So if you don't like your team mates you could always let the clock tick down and thus dispel the party. During the current Team's Victory/팀의 승리 event a victorious Anakim team makes a buff NPC spawn on Nevit, Tersi etc., while Lilith makes that NPC spawn on Devianne, Kara etc.:
http://lineage2.plaync.com/board/notice ... eId=616130
I could imagine that players who have their main character(s) on Devianne will try to get into the Lilith team. Chatting being permitted is possible precisely for that reason.